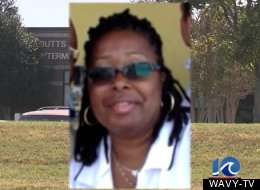 An elementary school teacher was found not guilty Monday on a misdemeanor charge she assaulted a student during a lesson on Islamic "hand signs."
After hearing the judge's verdict, Tara Harris - a special education teacher at Butts Road Intermediate School - walked out of the courtroom and hugged her family and friends. She cried as her loved ones praised God for the verdict.
"We're glad it's over," her husband said as they walked out of the building. He denied that his wife assaulted the girl or even taught a lesson on Islam. "It's a lie. It is all a big fabrication."
The girl's mother, Stephanie Bennett, said members of the Chesapeake public school system and Police Department conspired to "cover up the truth."
"If this had been a Christian teacher, she would have been out on her butt," she said, claiming Harris is a Muslim. "This is unfair. My daughter was assaulted."
IF WE PUNISH HER THAT WOULD BE SO "ISLAMOPHOBIC' AFTER ALL SHE WAS ONLY DOING WHAT SHE LEARNED FROM IMAM OF HER MOSQUE.
READ MORE
http://hamptonroads.com/2013/01/chesapeake-teacher-not-guilty-assaulting-student